Thank you for attending Chai Demystified at Lightning in a Bottle festival. It was truly an honor to share the art and ritual of making cha with you.
Here are some of our favorite photos/videos from the event:
STEP BY STEP CHAI DEMYSTIFIED RECIPE
Are you ready to make your very own homemade cup of cha? Find my simple recipe below:
Bring 1 cup of water to boil
Add in 2 teaspoon of loose leaf Assam black tea

(I use Tea India, you are welcome to use any black tea of your choice. If you are looking for a caffeine free alternative, I recommend Rooibos tea)
If you are using the Chai Demystified Cha Masala blend, add 3 teaspoons of the blend and skip step 3

Add 1 teaspoon of cha masala

Make your cha masala by blending together cardamom, cloves, and fennel seeds

Add 1 to 2 teaspoons of sugar or sweetener of your choice
Boil together for at least 2 minutes
Add 1/2 cup of whole milk

If you are dairy free I recommend using 1 cup of Oat milk to give it a creamy texture
Once all your ingredients are boiling together you will notice a reddish orange color of the cha. Continue to boil but make sure to keep an eye on your cha so it doesn't boil over. As it boils up to the top of your pot, turn off the heat and or take it off the stove.
Your cha is now ready to be strained into your favorite cup and served with a fennel biscotti or on its own.
Enjoy!
CHAI DEMYSTIFIED CHA MASALA BLEND
To purchase our Chai Masala via venmo please use this QR code: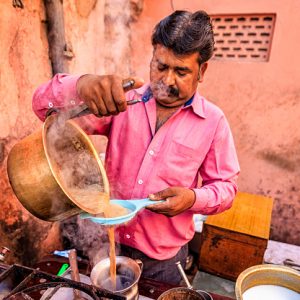 To receive a step by step guide on how to make your very own cup of chai (stress detox style) please provide your email address below.